Four Seasons Health Care: Supplier Performance Management Case Study
Four Seasons Health Care (FSHC) uses ARCUS® SPM to measure the performance of suppliers against configurable KPIs. These include Quality, Performance, Attitude, Professionalism and Service Delivery.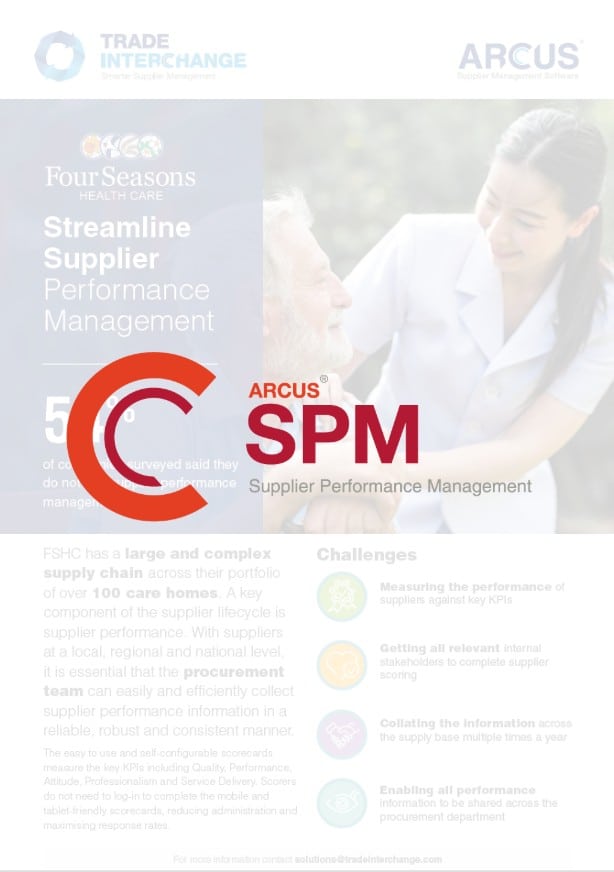 FSHC utilises the self-configurable scorecards to encourage more responses from both internal and external scorers. Suppliers do not need to log-in to complete the mobile and tablet-friendly scorecards, reducing administration and maximising response rates.
The centralised dashboard provides a complete overview of the status of each scorecard, and the results allow easy identification of supplier risk and non-compliance and enforces best practice, which encourages better business communication. Supplier performance data is collected across all geographical locations, and this information is shared across the whole of the procurement department. This removes silos of data and means more informed decisions are taken and more informed purchasing decisions.
You can download the Four Seasons Health Care case study by completing the short form below.
Download Case Study...