Written by: Trade Interchange
Posted on: 30/07/19
Plastic Free July
Plastic and its ill effects are already one of the most talked-about environmental issues of the past few years, however, Plastic Free July draws attention to one of the biggest threats to our planet. Around 8 million tonnes of plastic leak into our oceans each year, equivalent to a rubbish truck full of plastic being dumped into the ocean every minute.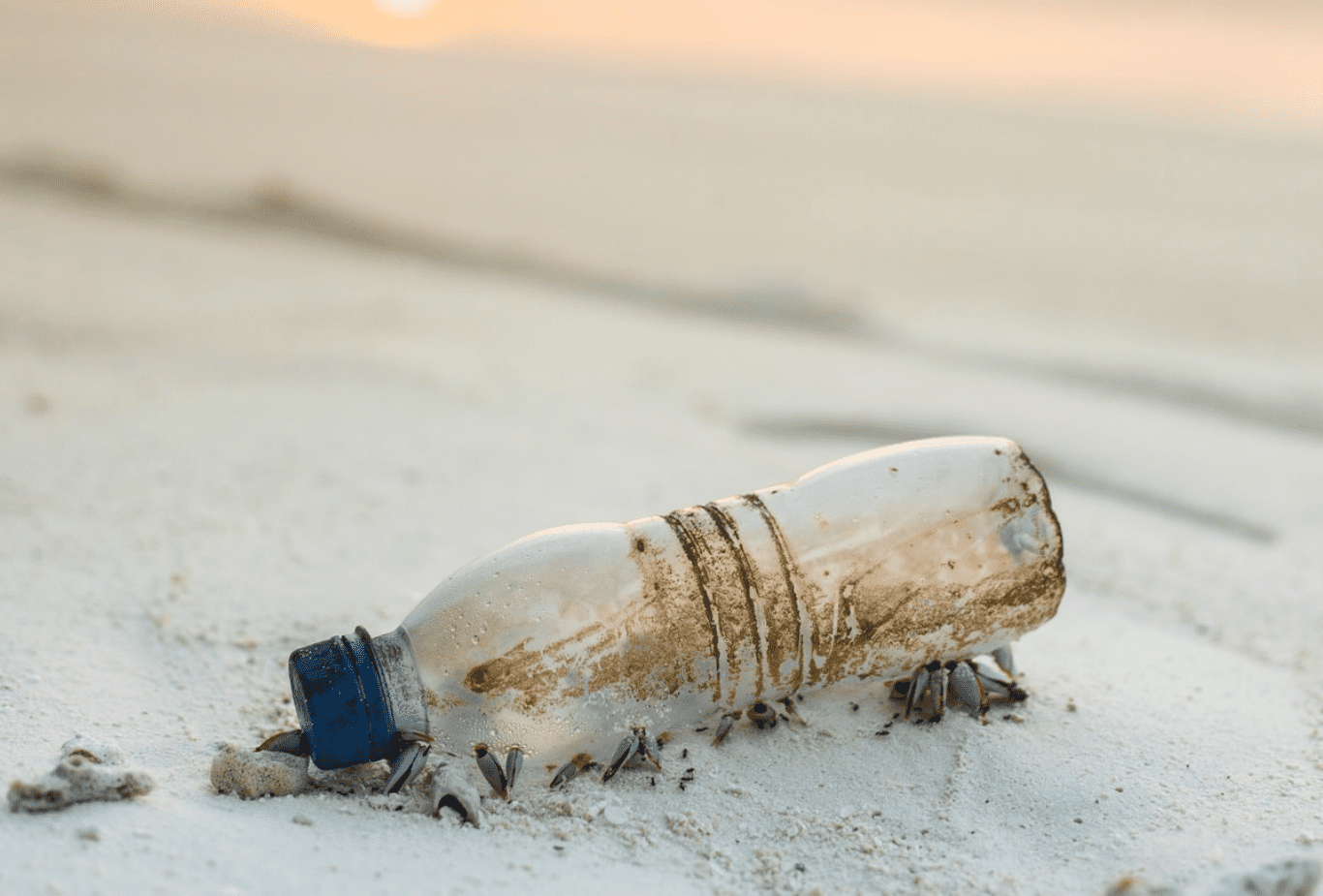 A study by the Ocean Conservancy suggested plastic is ingested by birds and fish, as 60% of seabirds and 100% of sea turtle species are found to have plastic in their stomachs. There are an estimated 150 million metric tonnes of plastic currently in our oceans, a figure which is set to increase to 250 million metric tonnes in less than 10 years.
An even more startling statistic is the prediction that by 2050 there will be more plastic in the ocean than fish, evidence that governments, companies and consumers need to actively work towards limiting their plastic usage. While plastic production has risen each year since its creation in the 1950s, increasing awareness of the dangers plastic can cause is leading to more attention being given to this pressing environmental issue.
Programmes such as Blue Planet brought plastic pollution to the forefront of our minds, contributing to the increasing environmental awareness of business' potential customers. In the UK alone 38.5 million plastic bottles are used every day, of which just over half end up at recycling centres with the remainder going to landfill, being incinerated or leaking into our oceans; a statistic which leaves customers and businesses down in the dumps.
Increasingly environmentally conscious consumers mean companies need to demonstrate their ethical and social responsibilities in order to protect a brand's reputation and their products' production, requiring a business to assess their contribution to plastic waste while examining how they can protect both the environment and their profits.
Consumers' small changes such as using reusable shopping bags and visiting cafes armed with a reusable cup undoubtedly contribute to the protection of the environment, however, any businesses not keeping up with the plastic-free trend can easily encounter disrepute which could lead to a lack of trust and custom for the brand.
A large portion of plastic waste is due to the 38.5 million plastic bottles used every day in the UK, in addition to the 480 billion plastic drinking bottles sold in 2016 alone. 20,000 plastic bottles are bought every second, of which less than half are collected for recycling with only 7% turned in to new bottles.
Coca-Cola produces 100 billion plastic bottles every year, or 3,400 per second, and are committed to using 50% recycled plastic by 2030.
Brands such as Evian have committed to using 100% recycled plastic bottles by 2025, however, there is still more which needs to be done.
Companies are no longer able to ignore their corporate and social responsibilities, as brands who do not acknowledge their customers' environmental concerns may come into disrepute if they fail to actively limit the volume of plastic waste produced.
With increasing concern surrounding the volume of plastic polluting our world even events such as Glastonbury have joined the plastic-free movement, saving 1 million water bottles over the course of a weekend by banning single-use plastic in their 2019 festival.
Currently, only 43% of the 13 billion plastic bottles sold in the UK each year are recycled, with 700,000 becoming litter every day. The pressure is growing for governments and companies to do more to tackle the plastic waste which contributes to marine pollution; an impossible task without close examination of supply chains.
Plastic knives are no longer cutting it; without a clear plan in place to tackle plastic waste companies risk losing their market share and reputation. Protecting a business' brand is never an easy task, however, increasingly environmentally conscious consumers mean companies must actively attempt to combat plastic pollution in order to protect their reputation.
Some companies such as Iceland and Sainsbury's have introduced 'reverse vending machines', paying customers for plastic bottles bought at their shops which are recycled through this system. Iceland has received over 310,000 bottles to date, rewarding recyclers with more than £30,000 in total. Initiatives such as these not only help to reduce plastic waste; they also demonstrate a company's social responsibility increasing brand loyalty and ensuring their profits do not become soda-pressing.
Britain's leading supermarkets are responsible for more than 800,000 tonnes of plastic packaging waste every year; well over half the 1.5 million tonnes produced by all UK households.
This waste of plastic products would fill enough skips to extend from London to Sydney; a startling realisation considering the figure is set to increase a further 20% by 2021.
Asda demonstrated its corporate and social responsibility by eliminated single-use straws, cutlery and cups in all of their stores while promising to ensure all its branded packaging is recyclable by 2025.
While this is no easy task 'it is vital that the UK packaging industry and supermarkets work together to turn off the tap', reducing the amount of plastic which pollutes the world's oceans while keeping profit warnings at bay. McDonald's eradication of plastic straws in all of the company's 36 thousand locations sets an example for other businesses, with the company also committing to using 100% renewable, recycled or sustainable packaging in the next eight years.
A company's lack of environmental responsibility can be the last straw for its reputation, with businesses who fail to tackle the problem losing customers and profits.
Costa is also taking its responsibility for sustainability seriously; removing plastic straws from all of their 3000 stores encouraging an environmentally conscious reputation. Supermarkets such as Marks and Spencer, Morrisons and Waitrose have removed single-use plastic packaging from their fresh produce encouraging shoppers to bring reusable bags or use the paper bags provided as opposed to contributing to the 5 million tonnes of plastic which is wasted in the UK every year.
This not only helps to protect the Earth but also supermarkets' reputation and profits. Marks and Spencer have also planned to replace plastic produce bags with paper and phase out plastic barcode stickers; an initiative which could reduce plastic waste by 580 tonnes in the next two years.
The supermarket '[knows their] customers want to play their part in cutting out plastic, while as a business our goal is to become zero-waste by 2025'.
This awareness, or lack thereof, determines the success of a business in an era of environmentally conscious consumers as social responsibility is key to ensuring companies aren't dead in the water.
Waitrose has introduced packaging-free aisles, featuring pasta and rice amongst other goods in dispensers to reduce the amount of plastic wasted. 'The top 10 UK supermarkets produce 810,000 tonnes of throwaway packaging each year, so we need to see other major retailers taking plastic reduction seriously and following Waitrose's lead'.
What can be done about plastic pollution?
Plastic can take up to 500 years to decompose, a startling fact considering the huge volume which is already in our oceans.
In the North Pacific Ocean, there is 6 times more plastic debris than plankton, which leads to the death of animals who mistake this waste for food.
90% of the rubbish in our seas is plastic, with around 46 thousand pieces per square mile. While we are unable to remove plastic from the sea we are able to limit and potentially eradicate the production of single-use plastic.
However, both companies and customers need to make a conscious effort to limit their contribution to the pollution to be shore beaches do not become overridden with plastic, so companies and consumers can continue to have a whale of a time.
While Tesco has made some efforts to reduce the amount of plastic they use, their refusal to eradicate all single-use plastics is a result of the work required to make changes involving their 9000 suppliers across 35000 products.
This figure can be daunting, however with the help of Trade Interchange's software supplier information can be uploaded and stored online, ensuring compliance with any rules regarding allergens or modern slavery.
How can ARCUS® help?
ARCUS® SIM provides companies with a centralised 360˚ view of supply chains and supplier information to ensure compliance with government and company regulations, minimising the risk of human error while providing the ability to easily access documents in order to protect a company's brand and reputation.
Responsibility is placed on the supplier to ensure all documents are uploaded, which are then verified by artificial intelligence to ensure key information is valid and correct.
Consumers want assurance the products they use have not adversely affected people or the environment; using ARCUS® SIM provides peace of mind for both consumers and businesses.
Product Information Management systems, such as ARCUS® PIM can be used to examine the volume of plastic in their products while working towards minimising their contribution to plastic pollution.
The Manufacturing Site Information plug-in to ARCUS® SIM can also be used to collect information about the site, allowing suppliers to upload any environmental accreditations or certifications proving they are trying to reduce their plastic use within their manufacturing site.
This information can then be verified by the Manufacturing Site Audit plug-in, which can be used by 3rd party or internal auditors to verify any plastic reducing measures and regulations are truly in place.
The results of all audits will then be stored alongside all other supplier information, proving due diligence has been implemented at each step of the supply chain. ARCUS® modules save time and increase efficiency, while reducing risk, protecting company brand and ensuring compliance with the latest regulations.