Whitbread: SIM Sustainability Case Study
Whitbread PLC is the UK's largest hospitality company, owning Premier Inn as well as Beefeater, Brewers Fayre, Table Table and Bar+Block.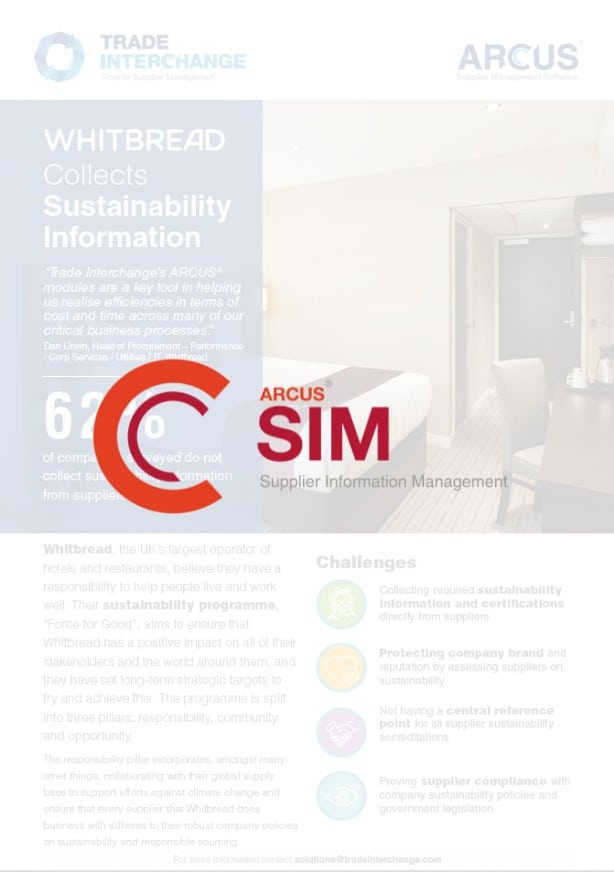 Its "Force for Good" sustainability program aims to ensure that Whitbread has a positive impact on all of its stakeholders and the world around them, and has set long-term strategic targets to try and achieve this. This includes collaborating with its global supply base to support efforts against climate change to ensure that every supplier adheres to its robust policies on sustainability and responsible sourcing.
Whitbread extended its use of ARCUS® Supplier Information Management (SIM) to automate, digitise, and streamline its supplier on-boarding.
Configurable questionnaires are sent to and completed by suppliers to ensure that Whitbread is collecting all required supply base sustainability information, and this replaced a separate standalone system.
You can read the Whitbread SIM Sustainability case study by completing the short form below:
Read Case Study...