Written by: Amy Cornforth
Posted on: 13/05/22
New ARCUS® Integrations to Streamline Supplier Information Collection
Throughout 2022, we have worked on new integrations for our ARCUS® Software, specifically so companies can more easily collect Environmental, Social, and Governance information from suppliers, reducing the costs, risks, and complexities associated with this area.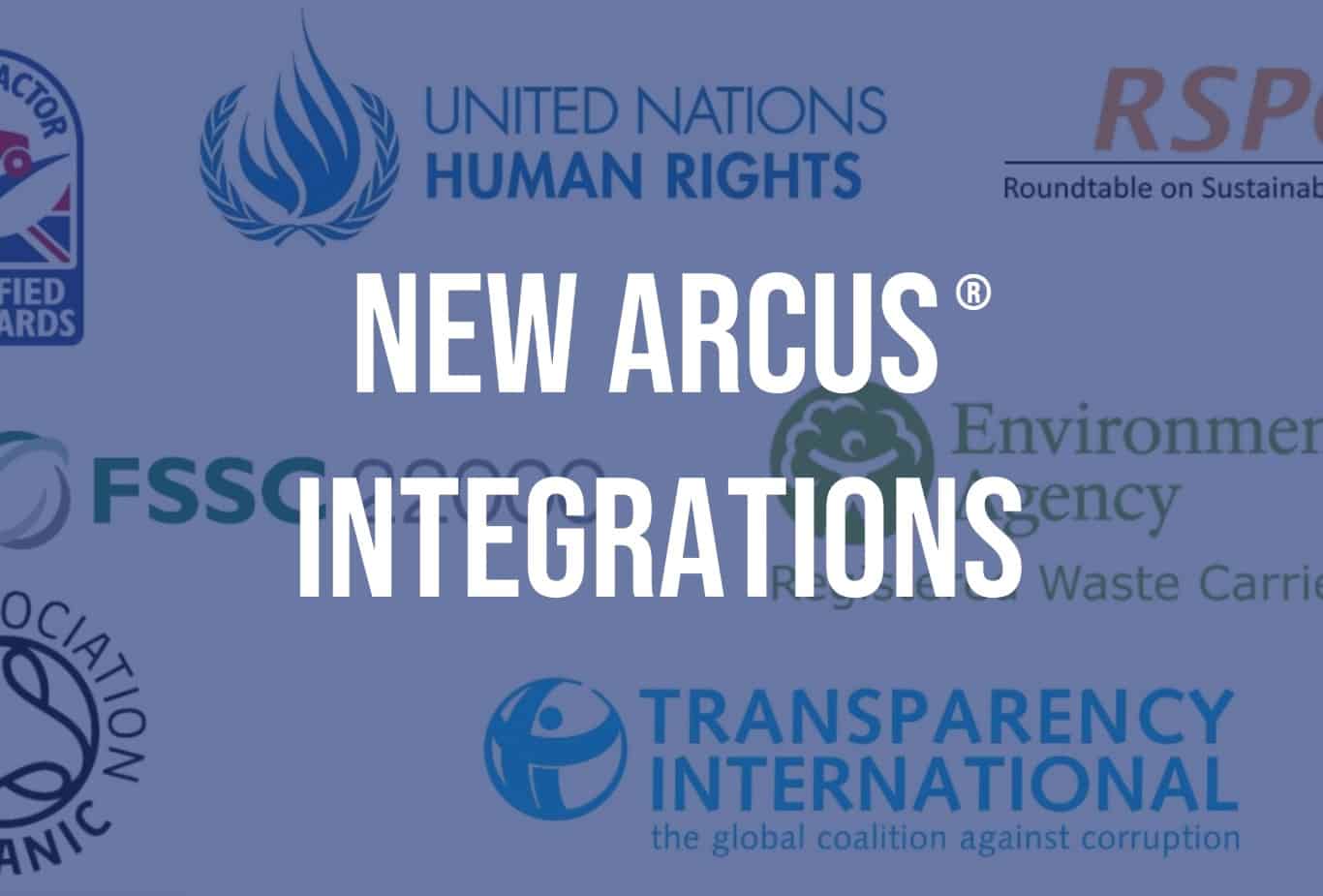 ARCUS® Supplier Information Management (SIM) Factsheet
To learn more about SIM, have a look at the factsheet.
Read Factsheet
ARCUS® Connect, our native API, enables our supplier management software to have integrations with other platforms, which provides you with the ability to fully digitise your processes and integrate easily with the following software.
Our offering was previously:
– DocuSign
– Google Maps
– Microsoft Active Directory
– NAVEX Global RiskRate
– Fourth Recipe and Menu Engineering Solution
– And more
However, we have recently introduced a group of new integrations which can now be used with ARCUS®. Through these integrations, data can be pulled into ARCUS® Supplier Information Management (SIM) straight from the source, streamlining the data-entry process and enhancing accuracy by using the original source, rather than risking error from re-keying.
Our new integrations include:
Corruption Perceptions Index
The Corruption Perceptions Index ranks countries across the world based on how corrupt their public sectors are perceived to be. The results are given on a scale of 0 to 100, where 0 is highly corrupt and 100 is very clean.

FSSC 22000
The Food Safety System Certification 22000 (FSSC 22000) offers a complete certification scheme for the auditing and certification of food safety management systems.
Red Tractor
Red Tractor champions British food and farmers and is the UK's largest food and farm standards scheme. It covers all areas of food production from animal welfare and food safety to traceability and environmental protection and is the only UK scheme to do so.
Register of Waste Carriers, Brokers, and Dealers
People or businesses who transport, buy, sell or dispose of waste, or arrange for someone else to do so in the UK, must be registered as a Waste Carrier, Broker or Dealer.
RSPO
The RSPO has developed a set of environmental and social criteria which companies must comply with to produce Certified Sustainable Palm Oil (CSPO). When applied properly, these criteria help to minimise the negative impact of palm oil cultivation on the environment and communities in palm oil-producing regions.
Soil Association
The Soil Association was one of the founders of the global organic movement and developed some of the world's first organic standards to protect producers, consumers, and the soil by endorsing nature-friendly farming methods.
They continue to develop high standards for food, farming, health and beauty, and textiles, as well as for forestry across Europe to influence legislation.
Universal Human Rights Index
The Universal Human Rights Index is a database that gives access to human rights recommendations issued by the three pillars of the United Nations human rights protection system.
To learn more about ARCUS® SIM and ESG, have a look at the industry concerns document here.
ARCUS® Supplier Information Management (SIM) Factsheet
To learn more about SIM, have a look at the factsheet.
Read Factsheet