Barchester Healthcare reduces contract implementation time
Companies in the healthcare sector need to ensure that they have a strong focus on efficiency and compliance while supplying a quality service for their clients. This results in providers like Barchester Healthcare having a complex supply chain that includes vendors at a local, regional, and national level, meaning that managing their suppliers' contracts can be an awkward and time-consuming process.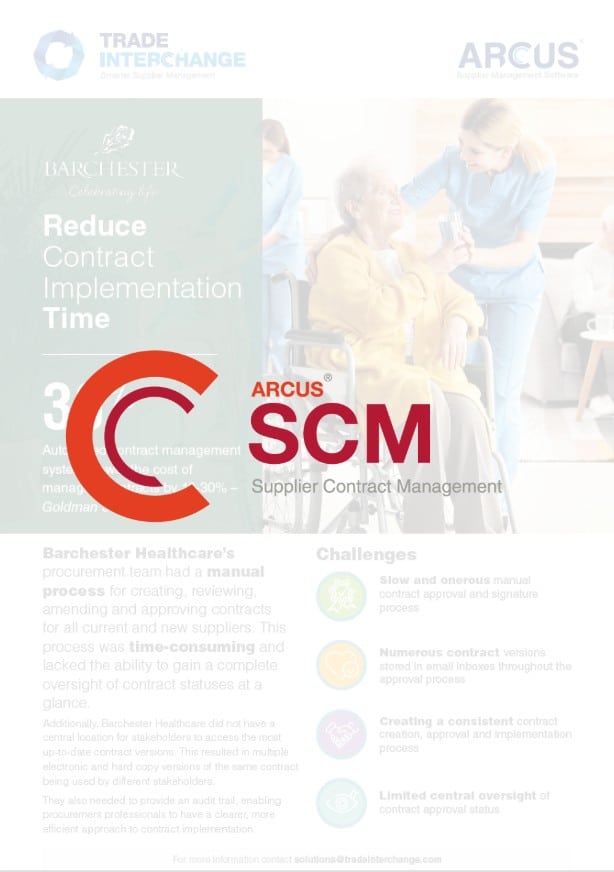 Barchester Healthcare is an independent care provider in the United Kingdom, running over 200 care homes and seven registered hospitals across the country. The organisation offers a wide variety of care options for short and long-term residential care to nursing services, assisted living as well as a range of services for adults with severe disabilities or mental health needs.
Previously, Barchester Healthcare's procurement department had a manual process for creating, reviewing, amending, and approving supplier contracts, and this meant that they lacked the ability to immediately gain a complete oversight of the statuses of these contracts.
To increase confidence in their supplier contract lifecycle management, Barchester Healthcare implemented ARCUS® Supplier Contract Management (SCM). This decision was made after the successful deployment of ARCUS® Supplier Information Management (SIM), further streamlining their supplier management procedure.
The Solutions Consultants at Trade Interchange worked closely with Barchester Healthcare to electronically map their contract approval processes. Using bi-directional, configurable workflows, the procurement professionals at Barchester Healthcare can now approve multiple contracts simultaneously in a fully auditable process that mirrors their earlier business practices. This has reduced the amount of time spent managing supplier contracts, leaving the procurement department with more time to focus on other valuable duties.
Using the native API, ARCUS® Connect, SCM integrates with other systems to help form one end-to-end streamlined solution. This includes an integration with DocuSign, which allows contracts to be signed remotely by using electronic signatures, helping to further digitise the supplier contract management process.
The solution is completely cloud-based, meaning that the procurement department now has a centralised repository for all supplier contracts and associated documents. Key stakeholders can now access supplier contract information from any location and at any time, digitising the entirety of the end-to-end supplier contract management process.
Speaking about the impact ARCUS® SCM has had on the business, Jody Kerner, Director of Procurement at Barchester Healthcare says:
"The introduction of ARCUS® SCM has significantly increased the efficiency of our contract creation, approval and implementation without changing our process. Taking the system online has greatly increased our visibility and reduced the time to complete the process as there is no waiting for manual interventions."
If you would like to find out more about the benefits of ARCUS® SCM, you can download the Barchester Healthcare case study by completing the short form below.
Download Case Study...