Charity Event: Saltburn Beach Clean Up 2023
Taking advantage of our head office's close proximity to a previously internationally-awarded beach – the 'Jewel of the North Yorkshire Coast', Saltburn-by-the-Sea, a dedicated team of Trade Interchange staff took to the sand to take part in a beach clean up event as part of both World Water Week and Surfer's Against Sewage's #millionmileclean.
Read more about how it went!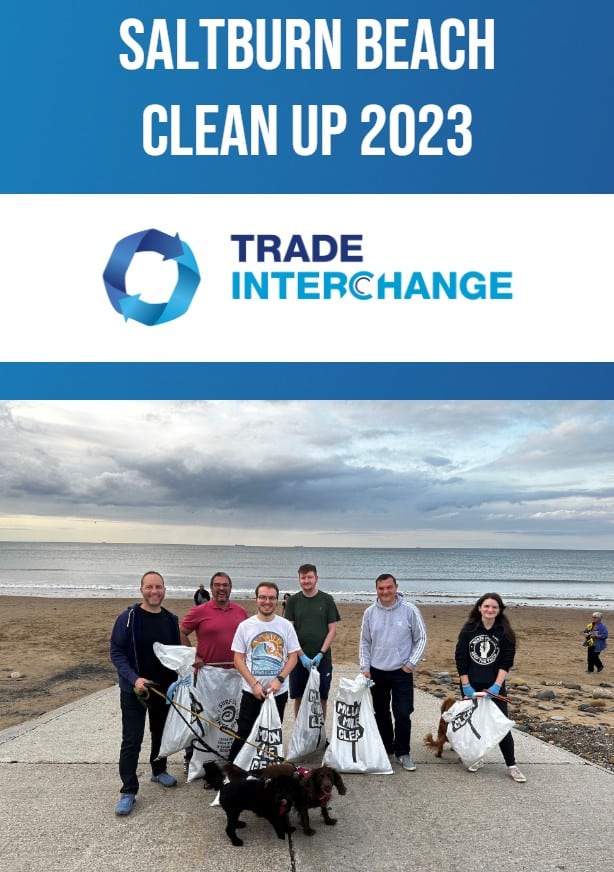 World Water Week, taking place this year from the 20th to the 24th August, focusses on the importance of protecting and maintaining our natural clean water supplies across the globe. Surfer's Against Sewage are a locally-based charity combatting the effects of raw sewage and pollution being pumped directly into the sea by UK water providers, as well as general litter and waste being left behind by beach-goers. 
The nature of the event was simple: to give back to the local communities we are a part of, and protect the natural spaces which we all are responsible for and enjoy.
The participants met at Saltburn pier, a historic Victorian structure iconic to this part of the coastline (and the most northerly pier still standing on British soil). There they were given a brief safety instruction, safety gloves and reusable refuse sacks were distributed curtesy of SAS, and the clean began.
How did it go?
Notable items picked up were crisp packets, fish and chip packaging, cigarette butts, and plastic bottle tops.
In total, across the participants, the amount of rubbish gathered was enough to completely fill two reusable refuse sacks – the equivalent of 20kg of rubbish!
The event participants worked tirelessly until the rising tide forced us off the beach entirely – and then it was off to local fish and chip shop Seaview for a well-earned fish and chip dinner!
Not only did the event succeed in cleaning up a beautiful local natural space, but a number of participants reported feeling a sense of personal accomplishment and fulfilment following the clean. The therapeutic nature of the space combined with the activity itself resulted in an overwhelming sense of positivity, making the beach clean a resounding success.
A huge congratulations to everyone who took part, and watch this space for similar events in the future!
Well done.