Hallo Healthcare Group subscribes to cloud-based supplier management solutions
Hallo Healthcare Group, formerly McKesson UK, distributes healthcare systems, medical supplies, and pharmaceutical products.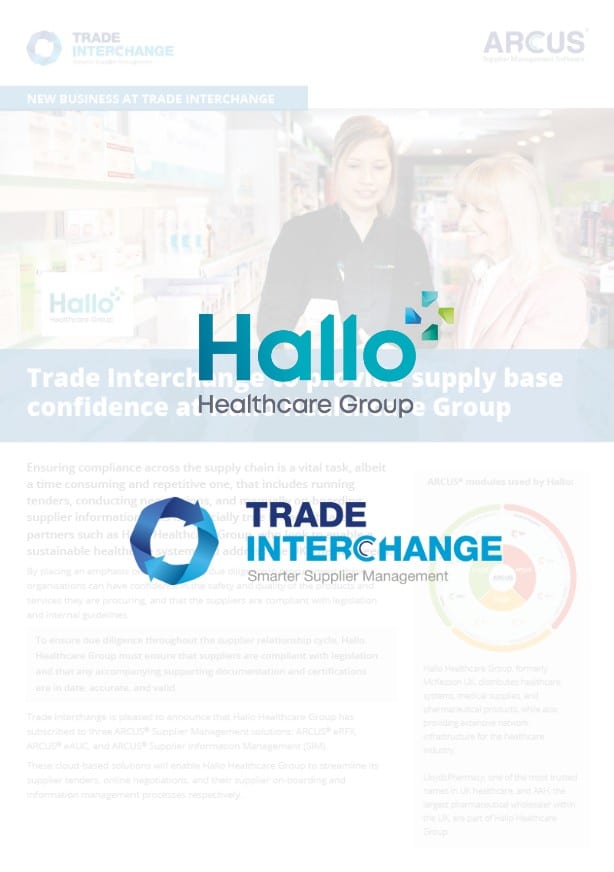 LloydsPharmacy, one of the most trusted names in UK healthcare, and AAH, the largest pharmaceutical wholesaler within the UK, are part of Hallo Healthcare Group.
Trade Interchange is pleased to announce that Hallo Healthcare Group has subscribed to three ARCUS® Supplier Management Software modules: ARCUS® eRFX, ARCUS® eAUC, and ARCUS® Supplier Information Management (SIM).
These cloud-based solutions will enable Hallo Healthcare Group to streamline its supplier tendering, online negotiation, and supplier on-boarding processes respectively.
To find out more, you can download the new business announcement by completing the short form below.
Read Hallo Healthcare Group document...