Written by: Emily Catterson
Posted on: 27/01/23
Saving Our Bacon: Farmhouse Breakfast Week 2023
How sustainable are your breakfast choices?
This week it's been all about breakfast – who doesn't love a good English fry-up? We've been taking a closer look at where the most important meal of your day actually comes from, and at the challenges that thousands of restaurants, hotels, pubs and cafes face to provide it.
Britain has been farming and growing produce for thousands of years, and most of the grains, wheat, barley, and oats which constitute the basic ingredients of a hearty breakfast are grown right here in the UK. Sustainable farming has been a hot topic of late, with a quarter of harmful greenhouse gas emissions ascribed to the food production industry. Not only this, but unpredictable weather patterns – a direct impact of climate change – have been causing widespread drought and crop failures.
Livestock farming is by far the largest emissions contributor, however, with emissions caused by meat production twice those of plant-based food production. Delicious as those pork sausages may be, they come with a hefty environmental price tag, as shown in the below table: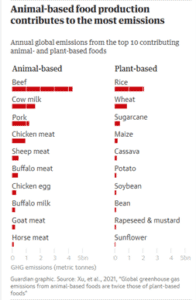 The English Breakfast as we know it is under threat, and we must all play our part to protect not only the food on our tables, but the planet itself.
Trade Interchange's ARCUS® Supplier Information Management (SIM) works with businesses providing meals such as breakfast, to streamline and consolidate their suppliers, as well as introducing vetting processes to ensure that the suppliers chosen meet the required environmental impact quotas as set out in ESG guidelines.
Our additional integrated API technology updates supplier qualification data direct from official sources daily, ensuring full transparency and accountability for suppliers prior to on-boarding, meaning the responsibility is with suppliers to prove they are consistently meeting environmental standards.
For more information on ARCUS® SIM, click here.
Click here to read more about ESG and farming's impact on the global environment.