AAK: Manufacturing Site Information Case Study
AAK uses the ARCUS® Supplier Information Management (SIM) module to manage key supplier data, including production, quality and technical information at a company and site level. This ensures complete transparency and compliance associated with supply chain risks across the geographical areas ARCUS® SIM is deployed in.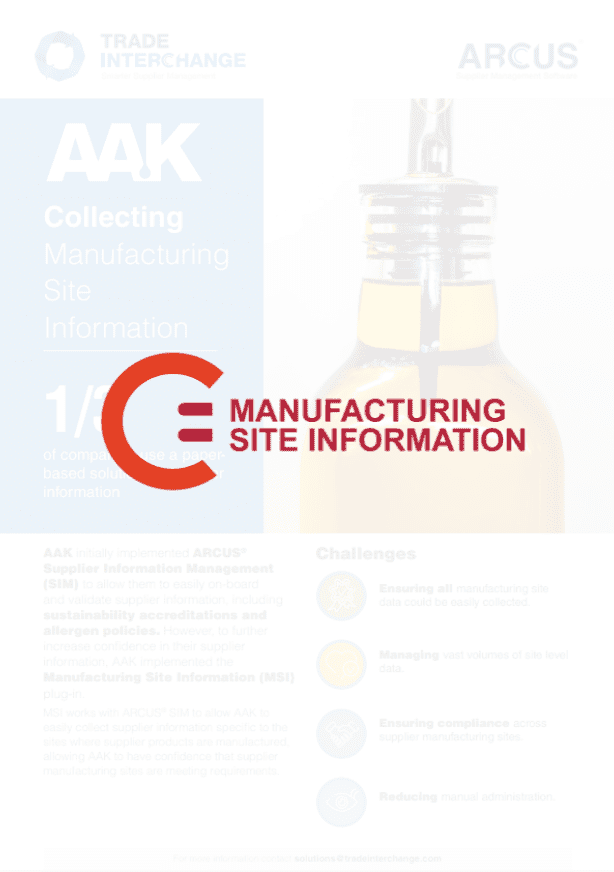 ARCUS® SIM's Manufacturing Site Information (MSI) plug-in enables the technical team to request detailed manufacturing site-specific information, certifications and policies at the same time as their procurement colleagues invite suppliers to on-board. The information uploaded by the supplier enables the team to determine which products can be supplied and from which manufacturing site. This data is then stored centrally in the cloud, meaning there is never a need to re-key the information.
The ability to designate which manufacturing sites the products are supplied from has significantly improved the control the teams at AAK have over their supply chain and helps to mitigate the risks.
You can download the AAK MSI case study by completing the short form below.
Download Case Study...