Trade Interchange to provide supply base confidence at P&O Ferries
P&O Ferries is a leading pan-European ferry and logistics company. In 2019, they sailed 27,000 times on eight major routes between Britain, France, Northern Ireland, the Republic of Ireland, Holland, and Belgium.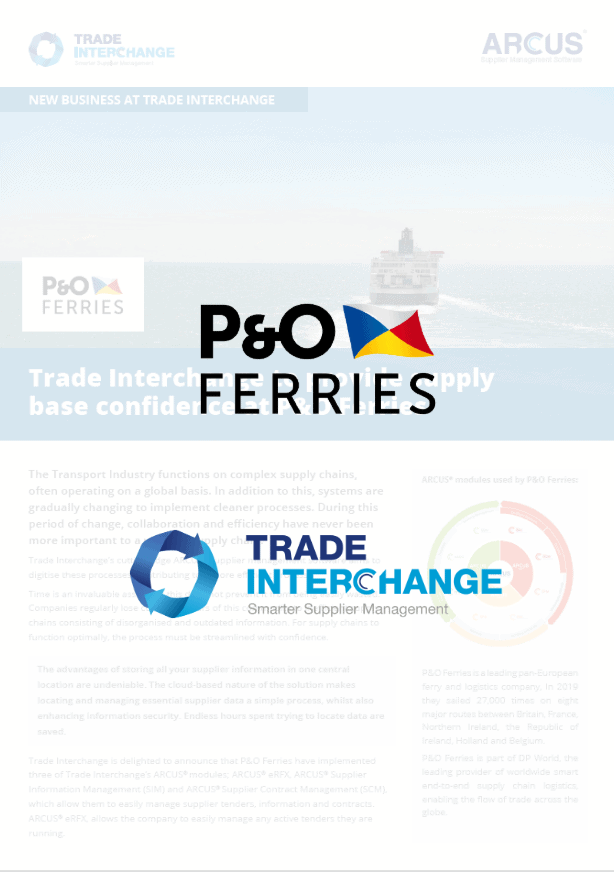 P&O Ferries is part of DP World, the leading provider of worldwide smart end-to-end supply chain logistics, enabling the flow of trade across the globe.
Trade Interchange is pleased to announce that P&O Ferries will be implementing three ARCUS® modules:
P&O Ferries is subscribing to three of Trade Interchange's ARCUS® modules; ARCUS® eRFX, ARCUS® SIM, and ARCUS® SCM to streamline supplier tenders, supplier on-boarding, and supplier contract management respectively.
If you would like to find out more, you can read the new business document by completing the short form below.
P&O Ferries document...