Trade Interchange to provide supply base confidence at Vestey Foods
Vestey Foods specialises in the sourcing, processing, importing and distribution of chilled, ambient and frozen food products. The company is proud to provide their services to a variety of industries, including retail, foodservice, wholesale, government and manufacturing customers.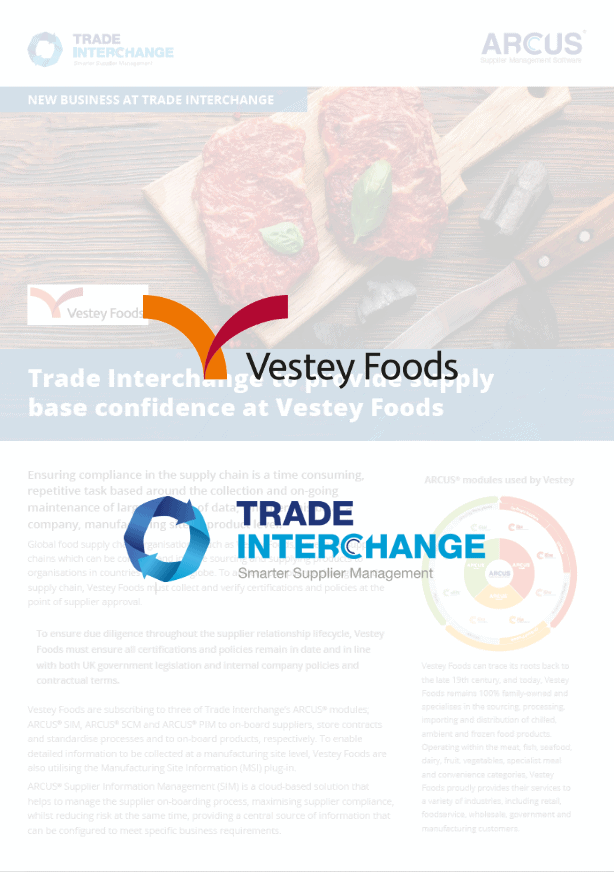 Trade Interchange is pleased to announce that Vestey Foods will be implementing three ARCUS® modules:
Vestey Foods is subscribing to three of Trade Interchange's ARCUS® modules; ARCUS® SIM, ARCUS® SCM and ARCUS® PIM to on-board suppliers, store contracts and standardise processes and to on-board products, respectively. To enable detailed information to be collected at a manufacturing site level, Vestey Foods is also utilising the Manufacturing Site Information (MSI) plug-in.
If you would like to find out more, you can download the new business document by completing the short form below.
Download Document...